Event Details
July 2022 Diversity, Equity, and Inclusion Panel and Training
Date:
July 21, 2022, 11:30am – 4:00pm
Location:

Envista Event Center
3620 SW Wanamaker Road
Topeka, KS 66614

Price:
Event Type:
iCal link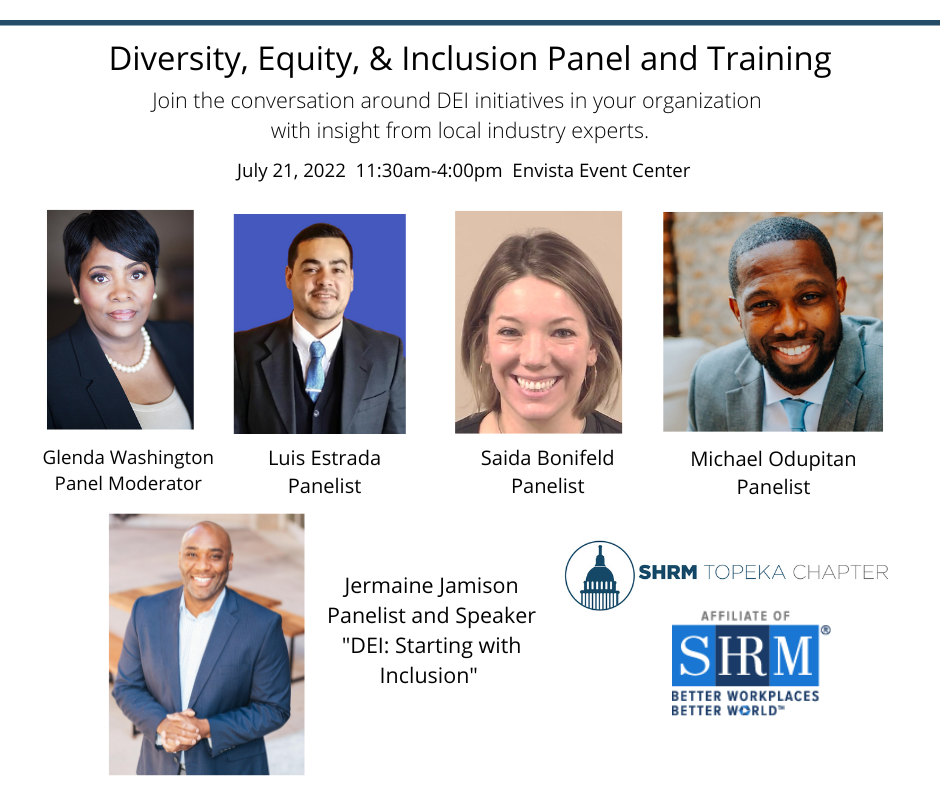 Schedule
11:30am-12:00pm Networking, Lunch and Chapter Business
12:00-1:00pm Diversity, Equity, and Inclusion Panel
1:00pm-4:00pm DEI Training: Starting with Inclusion with Jermaine Jamison
Cost and Credit Information
You must register for the DEI Training: Starting with Inclusion separately from lunch and the DEI Panel.
Networking, Lunch and Chapter Business & DEI Panel
$15.00 – SHRM Topeka Members - Check or Cash Payment At the Door
$16.00 – SHRM Topeka Members - Online Payment via Paypal + $1 convenience fee
$20.00 – Non-members or guests - Check or Cash Payment At the Door
$21.00 – Non-members or guests - Online Payment via Paypal + $1 convenience fee
$0.00 – Referral or anniversary with email notification from board member
Attendees will receive 1.0 hour of HRCI and SHRM recertification credit for the DEI Panel.
DEI Training: Starting with Inclusion
$0.00 – Students – SHRM Topeka will reach out for more information
$30.00 – SHRM Topeka Members - Check or Cash Payment At the Door
$31.00 – SHRM Topeka Members - Online Payment via Paypal + $1 convenience fee
$60.00 – Non-members or guests - Check or Cash Payment At the Door
$61.00 – Non-members or guests - Online Payment via Paypal + $1 convenience fee
Attendees will receive 3.0 hours of HRCI and SHRM recertification credits for the DEI Training.
Meet our Panelists
Glenda Washington
Glenda is the Chief Equity and Opportunity Officer at the Greater Topeka Partnership. She heads up Diversity, Equity and Inclusion initatives and program development as well as strategic planning and community and economic development.
Saida Bonifeld
Saida (Si-ee-da) Bonifield is a diversity, equity, and inclusion (DEI) practitioner who partners with non-profit and educational organizations to intentionally expand and incorporate inclusion and equity-based initiatives and practices into institutional frameworks. Saida knows how to drive meaningful conversations and create positive change across organizations. She develops and implements inclusion-based employee resource groups, leadership councils, strategic plans, and training programs to sustain momentum and engage stakeholders across organizations and surrounding communities.
Saida is currently serving as the Manager for Diversity, Equity, and Inclusion at Stormont Vail Health in Topeka, KS. Prior to this, Saida worked as an independent consultant and as the Associate Vice President within Human Resources for a Texas-based non profit focused on providing legal representation and social support to immigrants and refugees. Formerly, Saida worked for the University of Kansas as the Director of Sexuality and Gender Diversity, and as the Director of Strategic Initiatives in the Department of Diversity, Equity, and Inclusion. In both of these roles, she worked with students, faculty, and staff to advocate for minoritized individuals and communities at the University. Saida has been working in the diversity, equity, and inclusion field since 2008, and has worked at Washington University in St. Louis and the University of Illinois at Urbana-Champaign in similar roles. She holds a Masters' degree in Higher Education Administration, and Bachelors' degree in Spanish Language and Literature from the University of Kansas. Saida has recently become certified as a Workplace Conflict Mediation Specialist and currently lives in Lawrence, Kansas.
Luis Estrada
Current Role: Community Engagement Manager | Unite Us
Other Roles:
CEO/ Cofounder of Topeka Latino Professionals Association
Founder of Somos KS: Resource platform
Shawnee Co. Food & Farm Advisory Council
YWCA Advocacy Committee
Woman and Minority Business Development Council Former
SME on County Covid-19 Emergency Response Team
Chair of The Human Relations Commission for the City of Topeka 2018-19
Luis is devoted to developing a deeper understanding of what challenges our most vulnerable communities. He enjoys the company of creative minds and loves to immerse his time in projects that benefit the health of society.
Born in Jalisco, MX. Briefly raised in So-Cal. A resident of Topeka since 1994, Luis currently serves as an advocate for the Latino Community and its youth in Shawnee County and throughout the state of Kansas. The focus of his work is on strengthening communities and improving the lives of underserved residents through educational, social, and economic opportunities.
Additionally, Luis helps facilitate the importance of understanding civic engagement to current, new, and future citizens in marginalized communities. His heart is invested in improving the health and environment of the neighborhoods similar to those he grew up in.
Michael Odupitan
Michael was born in West Palm Beach, Florida. He graduated from Lake Worth Community High School. He relocated to Topeka, Kansas in 2002 to attend Washburn University. Michael played football and basketball at Washburn and graduated with a Bachelors of Science in Criminal Justice and minored in Social Services. Upon graduation Micheal spent 17 years in the Social Service field working with children and families. In the midst of those years he became a Certified Intensive Care Foster Home for 25+ at risk young men in the course of 8 years before he started the journey he is on now. "My early years were very humbling, and without that past I would not be the man that I am today." Growing up in a community riddle with drug, prostitution, and gang violence, Micheal had one goal, to make it out! Michael grew up in a single parent house with 3 siblings, which he is the youngest. Being the youngest of four, he was able to observe both of this brother get involve in drug dealing and older sister lose her passion due to having children. His mother vowed that he would be different and invest in him by keeping him active in sports, which he excelled in.
After graduating from Washburn University, Michael decided to stay in Topeka, Kansas due to the gang violence that was occurring in his home town of Lake Worth, Florida. In 2015, Michael was in search of more opportunity, so he moved to Kansas City and started to create his life's work. To create a community base organization for the advocacy and growth of minorities after observing the deaths of Eric Garner, Fred Gray, Alton Serling, and Philando Castile, and many others. He developed a successful after school mentorship program for young men with a good friend at Leavenworth High School but the overall vision wasn't being fulfilled. He moved to Tulsa, Oklahoma to experience the history of Black Wall Street and to learn more about community development.
After leaving for 4 years, Michael return to Topeka to create Omni Circle. He stated "I returned to Topeka to create Omni Circle because Topeka saved my life and open doors for me to succeed. I would like to return the favor for the next generation of young men and women that look like me and others who are seeking opportunity to succeed in any way they desire" Michael believes that there is tremendous opportunity for community growth when collaboration is at the heart. He would like Omni Circle to be the organization that help facility that growth by closing the achievement gaps and expanding diversity and inclusion in Topeka to improve careers, develop leaders and provide a strong networking community.
Jermaine Jamison
Jermaine Jamison is the Co-founder of Jamison Perry, a recruiting and staffing organization, and President of 3E, LLC, a provider of talent management consulting, DE&I consulting, and organizational training and career coaching.
Drawing on more than 20 years of experience leading others and building partnerships of significance, Jermaine is known for his selflessness, honesty, authenticity, and transparency. These traits allow him to build strong human connections that improve businesses and advance careers.
Jermaine is an active member of the community. He advises youth on the importance of positive choices, creating a strong personal brand, and mentors professionals in the Kansas City area. In 2022 Jermaine will serve as Chairman of the Board for Lenexa Chamber of Commerce and SHRM-KC Director of Diversity, Inclusion, Equity, and Belonging.
Jermaine earned a Bachelor of Science in sociology from Emporia State University, emphasizing Human Development, Sociological Paradigms, and Family Studies. Jermaine holds Talent Management, DE&I, Coaching Certifications, International Accreditations, and an ACECC designation.
Jermaine will also be leading our DEI Training: Starting with Inclusion session!
Registration is now closed.
Thank you to our sponsor Watko Benefit Group!