Event Details
December 2023 Chapter Meeting: Employment Outlook on Market Trends & Employer Strategies
| | |
| --- | --- |
| Date: | December 21, 2023, 11:30am – 1:00pm |
| Price: | $15.00 or $20.00 (see below for details) |
| Event Type: | |
| iCal link | |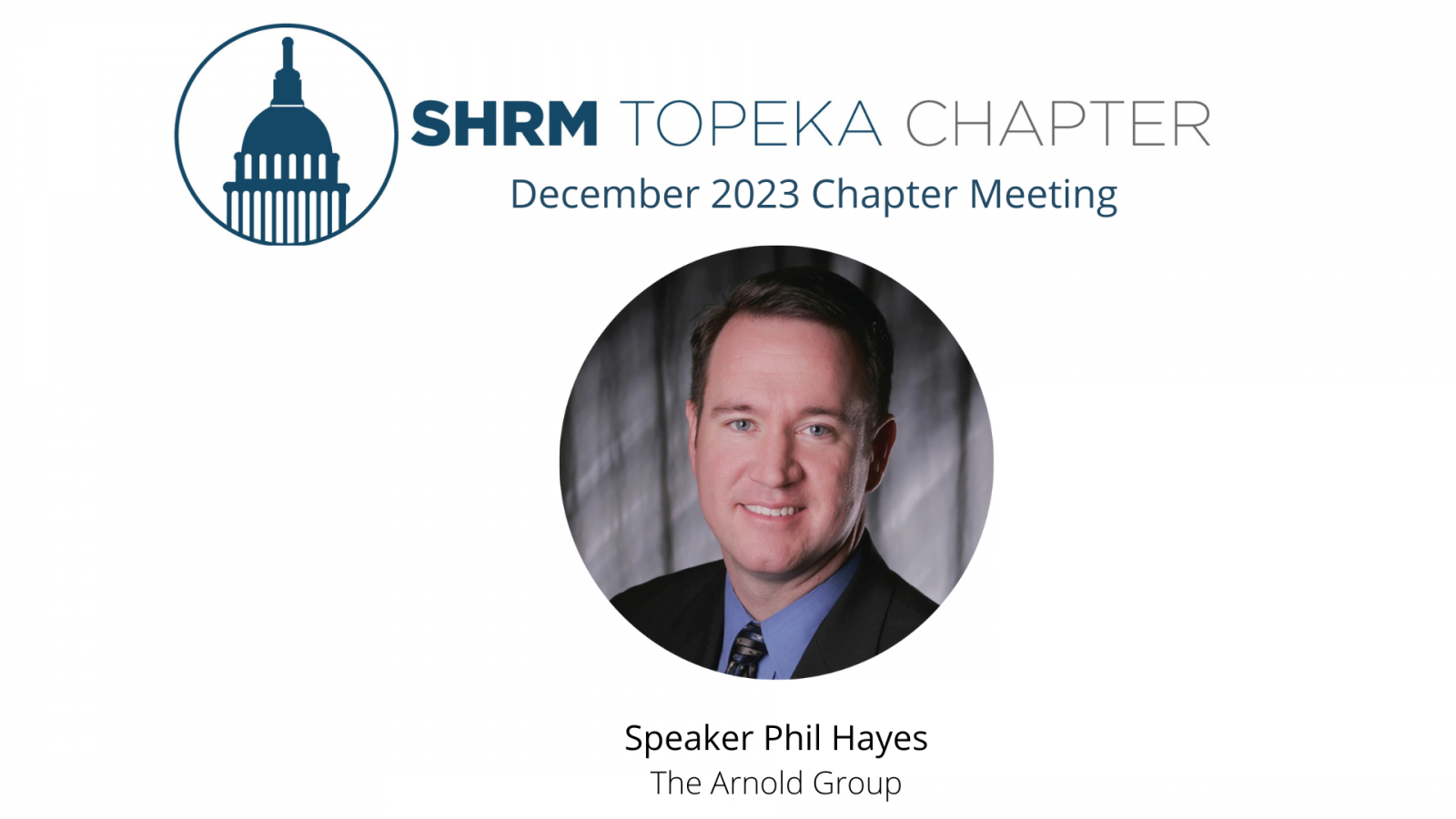 Meet the Speaker
Phillip M. Hayes is the Vice President and a principal owner of The Arnold Group (TAG), a human resource company that provides Recruiting/Staffing, Executive Search/Talent Acquisition, and Workforce Solutions. With over 25 years of business and HR experience and he has been recognized as the Wichita and the Kansas HR Professional of the Year. Hayes engages with clients to strengthen their HR programs, objectives, goals, and effectiveness by delivering tailored workforce solutions that leverage his expertise in employment, compensation, culture, and business management. He also remains active in legislative priorities pertaining to state HR policy and specifically in the unemployment arena, where he serves on several councils and boards and has received the Father Becker Award for his major contributions to UI research and transformative impact in the state of Kansas. He is passionate about providing innovative and strategic HR solutions that benefit both employers and employees.
Cost and Credit Information
$15.00 - SHRM Topeka Members
$20.00 - Non-members or Guests
$0.00 - Referral or anniversary with email notification from board member
Attendees will receive 1.0 hour of HRCI and SHRM recertification credit for the chapter meeting presentation.
Description:
Turnover happens. Whether workers feel unappreciated, desire better pay and benefits, or are simply looking for better career opportunities elsewhere, employee turnover is bad for business. According to Gartner, U.S. annual voluntary employee turnover increased by 20% in 2022 from the pre-pandemic annual average. While some turnover will always exist within an organization, high turnover damages morale, company culture, and the bottom line. Having a solid staff retention strategy in place is essential. A majority of turnover is preventable by employers. If your organization is experiencing employee burnout, low employee engagement, lost productivity, and a higher turnover rate than you'd like, it's time to take action... AND everybody has a part to play. Factors like a strong economy or competitive labor market are out of your control, but there are steps you can take today to boost your retention rate and improve employee morale.
Learning Objectives:
Competition to attract– and keep– top talent continues to increase, so it's vital that your organization make employee retention a top priority. Join us as we examine current macro trends affecting employee movement and explore retention strategies to keep your top talent and reduce turnover:
1) The Employment Landscape
2) Company culture is KING
3) Considerations and strategies for organizations and managers
4) Pay strategies and overall employee experience